ASICS Penyagolosa Trails MiM 2023 information
Penyagolosa Trails® is a race of endurance requiring semi self-sufficiency, which starts at sea level from the city of Castelló and finishes at Sant Joan de Penyagolosa mountain. Racers must complete 60 km in a maximum time of 15 hours. The race passes through the towns of Castelló, Borriol, Vilafamés, Les Useres, Xodos and Vistabella to arrive at the finish located at Sant Joan de Penyagolosa, 1,280 meters above sea level. Participants who successfully complete the Penyagolosa Trails® MiM will be awarded with 3 ITRA points and UTMB 50K Qualifier.
These races are governed by the singular race principle of semi self-sufficiency. That is, the ability of a runner to manage his/her own survival between two aid stations, including food, clothing and security.
This principle implies the following rules: 
Each runner must carry all mandatory equipment throughout the race (see article 9 EQUIPMENT). At any time, commissioners may request a check of this equipment. All runners are obliged to submit to such requests, under penalty of elimination from the race.
Except in case of accident or emergency, personal assistance is authorized only at certain aid stations (*), in areas reserved for that purpose, or within 100 meters before or after designated areas.
It is forbidden to be accompanied during all or part of the race by an unregistered person, outside of designated aid stations.
(*) Personal assistance is tolerated in the following places:
Penyagolosa Trails®MiM: Borriol, Les Useres and Xodos.
Penyagolosa Trails®CSP: Borriol, Les Useres, Atzeneta, Culla, Vistabella and Xodos.
It is forbidden in all other aid stations or in any other point on the route.
It is the obligation of each participant to carry their own waste until the finish or until places designated by organizers.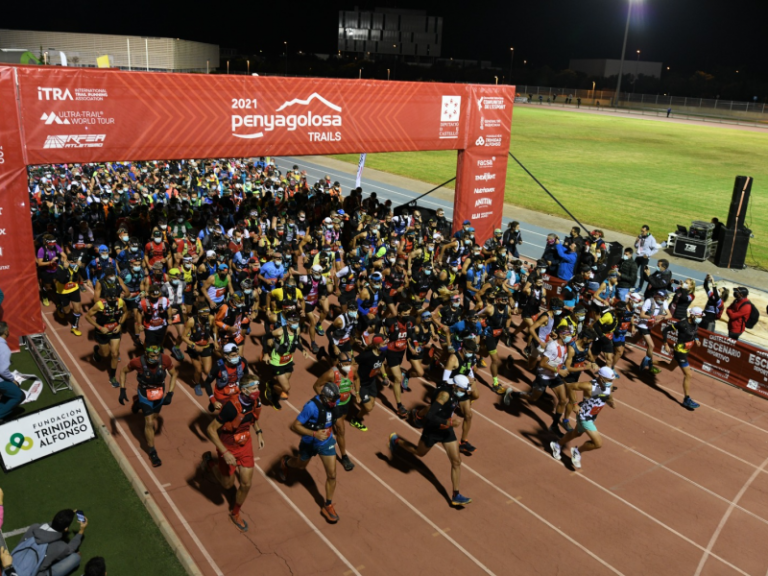 Except in case of serious injury, a runner should never abandon outside of a checkpoint. Runners must notify his/her decision to withdraw to the person in charge of the checkpoint, who can defnitively invalidate race bibs. Runners should retain race bibs, as this is the pass for buses, food and rest rooms. 
Evacuation will be decided by person in charge, according to the following general rules:
Bus in: Les Useres, Torroselles, Atzeneta, Culla and Vistabella. The transfers will be made to the finish line.
Runners who drop out in an aid station or checkpoint where there is no bus, and who are not injured, must reach the nearest evacuation bus stop as soon as possible, and by their own means.
Aid stations that are only accessible by 4×4 vehicles:

Upon closure of the checkpoint, organizers may evacuate retired runners who are still present.
In case of unfavorable weather, which may force a total or partial stop to the race, organizers guarantee evacuation in the shortest time possible.
In the case of withdrawing after leaving a checkpoint, it will be necessary to return to that checkpoint and report the race withdrawal to the checkpoint's manager. If upon return to the checkpoint you find the runners who close the race, they will invalidate your race bib and, from this point onward, runner will not be any longer under the control of the race organization.
There will be a exclusive bus service to transfer runners for free from the finish line to start. This service will be free for all runners. The bus schedules will be published later along with an access guide for the public to access different areas along the racecourse, as well as the finish.